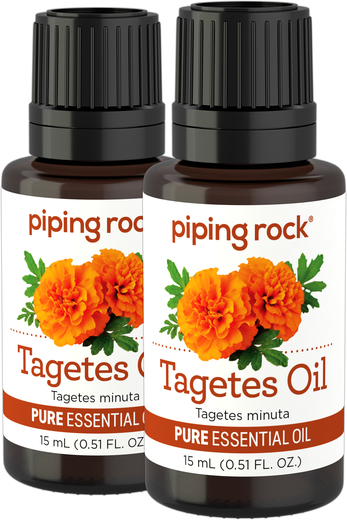 With its powerfully herbal, yet fruity aroma, tagetes oil is often called one of the strongest floral scents in aromatherapy. It offers several wellness benefits, such as:
Soothing during occasional times of nervousness**

Helping to lift the spirits, especially during meditation**

Adding a sense of calm tranquility**
Read more about Tagetes Oil
What is Tagetes?
Bringing the warm delight of the sun to life in gardens near and far, Tagetes minuta, also known as Southern Marigold, is an annual herb. They are popular for their delightful yellow-orange blooms, which were once planted around houses to ward off evil. Native to the temperate grasslands of Argentina, Chile and Peru, it wasn't long before these plants found their way to Europe by way of the Spanish Conquest.
These bright flowers have a rich history of spiritual significance. Tagetes is named for the Etruscan god of wisdom, Tages. Its moniker, Marigold, means Mary's Gold—named for the Mother Mary. In aromatherapy, tagetes oil's potent, floral-meets-fruity aroma may be strong to some, but its wellness benefits make it a must-have in anyone's essential oil collection.
Tagetes Essential Oil
Steam distilled from the flowering plant, tagetes oil offers plenty of benefits in aromatherapy. Inhaling its floral aroma may help during times of occasional nervousness or uncertainty, and for some it may offer a sense of calm while helping to lift the spirits—especially during meditation.
Blending essential oils opens up a world of aromatherapy possibilities! Other oils that complement tagetes oil's herbal-floral fragrance include: bergamot, clary sage, citruses, jasmine, and lavender oils.
Piping Rock pure Tagetes Oil is available in 1/2 oz. bottles.
Tagetes Oil Directions for Use
Add 3-5 drops of Tagetes Oil to a diffuser or vaporizer, to a bowl of steaming water or a hot bath to fill a room with its floral scent. To use topically, add ~5 drops of Tagetes Oil to ~10 mL of any Piping Rock carrier oil.
Tagetes Oil is for external use only and should be diluted in a carrier oil such as sweet almond, jojoba, grapeseed or avocado oil before being used topically. Do not apply to broken or irritated skin. Always consult your trusted physician before adding any essential oil to your regimen, especially if you are pregnant, nursing or taking any medications. Discontinue use and alert your doctor should an adverse reaction occur. Keep out of reach of children and away from eyes and mouth. Essential oils are flammable.