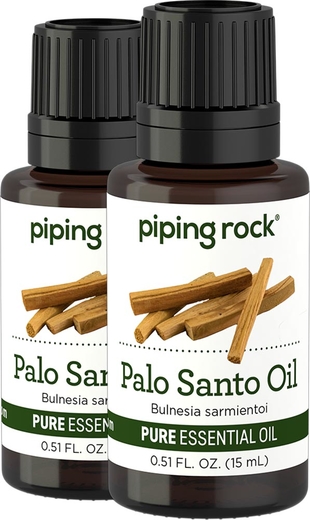 A rare and highly sought after oil for aromatherapists, Palo Santo Oil is known its complex scent with notes of vanilla, citrus, and wood. It is popular in meditative practices for:
Balancing the spirit**

Easing occasional stress**

Instilling feelings of contentment**
Read more about Palo Santo Oil
What is Palo Santo?
Native throughout many regions of Central and South America, the palo santo translates to "saint wood." The tree is part of the same family as myrrh and frankincense. The tree is considered rare and also holy by many Latin American cultures and has been utilized in traditional wellness and spiritual practices dating back to the ancient Incans.
The tree can live to be up to 90 years old, but what makes this treasured tree interesting is the fact that it does not develop its significant benefits until years after it has perished naturally and aged. Because of this, the oil is harvested very conscientiously while factoring in environmental concerns, resulting in an oil that is cherished by aromatherapists.
Palo Santo Essential Oil
Steam distilled from the bark of the Palo Santo tree, this essential oil's aroma is complex and warm, with notes of vanilla, citrus, and wood. In aromatherapeutic practices, this oil is celebrated for being balancing and tranquilizing, allowing it to help ease occasional stress. It is a highly sought after fragrance for aromatherapy and often an excellent choice as a meditative aid because it can help instill feelings of contentment.
Blending essential oils opens up a world of aromatherapy possibilities! Other oils that complement Palo Santo oil's complex warm fragrance include: bergamot, cedarwood, cypress, fir needle, frankincense, grapefruit, lavender, lemon, lime, mandarin, myrrh, neroli, orange, pine, rosalina, rosewood, sandalwood, and vanilla oils.
Piping Rock's pure Palo Santo Oil is available in 1/2 oz. bottles.
Palo Santo Oil Directions for Use
Add 3-5 drops of Palo Santo Oil to a diffuser or vaporizer, to a bowl of steaming water or a hot bath to fill a room with its warm and complex aroma. To use topically, add ~5 drops of Palo Santo Oil to ~10 mL of any Piping Rock carrier oil.
Palo Santo Oil is for external use only and should be diluted in a carrier oil such as sweet almond, jojoba, grapeseed or avocado oil before being used topically. Do not apply to broken or irritated skin. Always consult your trusted physician before adding any essential oil to your regimen, especially if you are pregnant, nursing or taking any medications. Discontinue use and alert your doctor should an adverse reaction occur. Keep out of reach of children and away from eyes and mouth. Essential oils are flammable.