WYPRZEDAŻ KOŃCZY SIĘ ZA
-

Dni

-

Godz.

-

Minimum:

-

Sek.
72%
OBNIŻKA
WYPRZEDAŻ KOŃCZY SIĘ ZA
-

Dni

-

Godz.

-

Minimum:

-

Sek.
40%
OBNIŻKA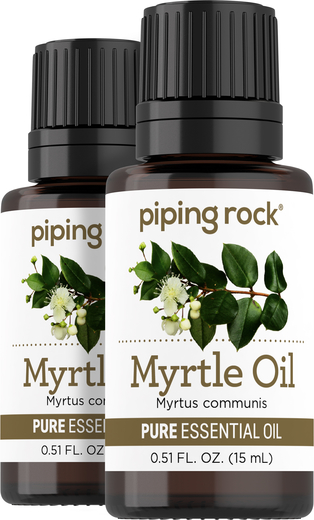 Derived from a small flowering North African tree, Myrtle Oil (Myrtus communis) has long been a symbol of beauty, purity, and love – especially in the Mediterranean. This oil has a clear, fresh scent that is slightly camphoraceous – much like Eucalyptus Oil. At PipingRock, our premium product assortment features:
Pure Myrtle Oil (Myrtus communis)

Myrtle Fragrance Oil

GC/MS tested essential oils for purity
Read more about Myrtle Oil
What is Myrtle?
Myrtle (Myrtus communis) is a small flowering tree native to North Africa. It has green, spear-like leaves surrounding eye-catching white flowers, which grow into dark berries. This tree has long been a symbol of beauty, purity, and love, and has been used for ages by people throughout the Mediterranean.
Boasting a rich history of use and significance since ancient times, myrtle was especially important to the ancient Greeks. They believed it to be a symbol of Aphrodite, the goddess of love, who is often depicted amongst myrtle trees. Myrtle was of such worth for the ancient Greeks that soldiers, athletes and nobles of great note were honored with myrtle wreaths and leaves.
Myrtle Essential Oil
Steam distilled from the leaves and twigs of the Myrtus communis tree, myrtle essential oil emits an aroma that is clean and sweet with pleasantly subtle floral notes. It is often compared to the scents of cajeput and eucalyptus. In aromatherapy, myrtle oil is popular for its cleansing, rejuvenating properties. For some, it can help ease occasional stress we all encounter sometimes while helping to instill a sense of internal harmony.
Blending essential oils opens up a world of aromatherapy possibilities! Other oils that complement myrtle oil's sweet fragrance include: bay, bergamot, black pepper, cajeput, chamomile, clary sage, clove, coriander, cypress, eucalyptus, ginger, helichrysum, lavender, lemon, lemongrass, lime, palmarosa, rosewood, rosemary, tea tree, and thyme oils.
Piping Rock's pure Myrtle Oil is available in 1/2 oz. bottles.
Myrtle Oil Directions for Use
Add 3-5 drops of Myrtle Oil to a diffuser or vaporizer, to a bowl of steaming water or a hot bath to fill a room with its floral scent. To use topically, add ~5 drops of Myrtle Oil to ~10 mL of any Piping Rock carrier oil.
Myrtle Oil is for external use only and should be diluted in a carrier oil such as sweet almond, jojoba, grapeseed or avocado oil before being used topically. Do not apply to broken or irritated skin. Always consult your trusted physician before adding any essential oil to your regimen, especially if you are pregnant, nursing or taking any medications. Discontinue use and alert your doctor should an adverse reaction occur. Keep out of reach of children and away from eyes and mouth. Essential oils are flammable.