Olejek aromatyczny z mimozy
(2)
WYPRZEDAŻ KOŃCZY SIĘ ZA
-

Dni

-

Godz.

-

Minimum:

-

Sek.
40%
OBNIŻKA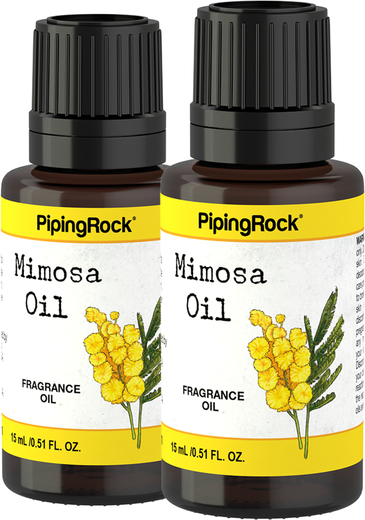 Mimosa mornings are just as delightful as they sound. This sweet and tropical aroma evokes warm sentiment and serenity. It's perfect for DIY aromatherapy projects like:
Candle-making, incense & potpourri

Soaps & deodorants

Bath & body products and other spa essentials!
Read more about Mimosa Fragrance Oil
What is Mimosa Oil?
Mimosa Fragrance Oil mimics the scent of the floral blooms of the Mimosa Tree. This tree is native to Asia, but can be found growing wildly throughout the Southern United States. The tree itself produces varying color blooms from pink to white, and is known for its plush appearance as well as its fragrant, slightly tropical scent.
Piping Rock's Mimosa Oil
The sweet and floral scent of Piping Rock's Mimosa Oil will bring you back to sunkissed summer mornings. Enjoy the velvety aroma of mimosa fragrance oil in candle making, incense, potpourri, soaps, deodorants and other bath and body products!
Piping Rock's Fragrance Oils
These aromatic oils are used by hobbyists and craft-lovers who are looking to add a prominent fragrance to projects such as candle-making, soap-making, perfumery and toiletry making. Custom blended by our team of fragrance experts, Piping Rock's collection of fragrance oils are of the top-most quality to ensure your finished product emits a scent that is not only authentic, but also 100% satisfying every time!