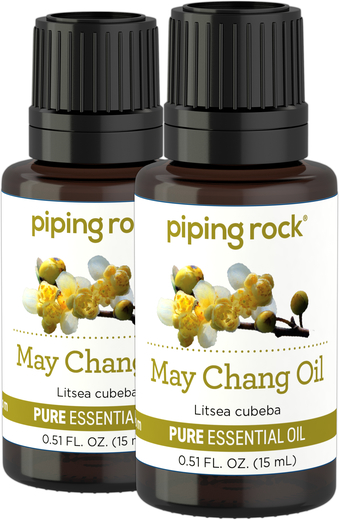 With its sweet and citrusy aroma, may chang oil is a newcomer to the world of aromatherapy—and is quickly gaining popularity! Often compared to lemongrass in scent, though lighter and sweeter, may chang oil:
Uplifts and helps ease occasional tension**

Helps instill mental clarity and optimism**

Encourages soothing rest**
Read more about May Chang Oil
What is May Chang?
Also known as Pheasant Pepper, Mountain Pepper, and Exotic Verbena, may chang (Litsea cubeba) is a small tropical evergreen tree native to China, Indonesia, Taiwan and other parts of southeastern Asia. It boasts lovely pale yellow flowers, which emit a beautiful, strong aroma. The trees also produce small berries that, when ripe, resemble peppercorns, which is perhaps why may chang has earned its pepper-inspired nicknames!
For thousands of years, may chang has seen use in traditional Chinese and Ayurvedic wellness practices. It is particularly cherished by the Atayal aborigines of Taiwan, who use the berries as a spice in their cooking. Today, may chang can be found gracing many body care products thanks to its wonderfully pleasant aroma.
May Chang Essential Oil
A newcomer to aromatherapy, may chang oil is steam distilled from the berries and leaves of the tree. The aroma is often compared to that of lemongrass, though may chang is lighter and sweeter in scent. It features hints of sweetness and fruit, making it a favorite for many aromatherapists! For some, may chang oil offers an uplifting sense of clarity and optimism. It can help ease occasional stress and tension we all experience from time-to-time, as well as helps instill soothing rest and relaxation.
Blending essential oils opens up a world of aromatherapy possibilities! Other oils that complement may chang oil's lemongrass-like fragrance include: bay, black pepper, cardamom, chamomile, coriander seed, clove, cypress, frankincense, ginger, grapefruit, juniper berry, lavender, neroli, palmarosa, patchouli, rosemary, rosewood, sandalwood, sweet orange, tea tree, vetiver, and ylang ylang oils.
Piping Rock's pure May Chang Oil is available in 1/2 oz. bottles.
May Chang Oil Directions for Use
Add 3-5 drops of May Chang Oil to a diffuser or vaporizer, to a bowl of steaming water or a hot bath to fill a room with its lemony-sweet scent. To use topically, add ~5 drops of May Chang Oil to ~10 mL of any Piping Rock carrier oil.
May Chang Oil is for external use only and should be diluted in a carrier oil such as sweet almond, jojoba, grapeseed or avocado oil before being used topically. Do not apply to broken or irritated skin. Always consult your trusted physician before adding any essential oil to your regimen, especially if you are pregnant, nursing or taking any medications. Discontinue use and alert your doctor should an adverse reaction occur. Keep out of reach of children and away from eyes and mouth. Essential oils are flammable.