WYPRZEDAŻ KOŃCZY SIĘ ZA
-

Dni

-

Godz.

-

Minimum:

-

Sek.
40%
OBNIŻKA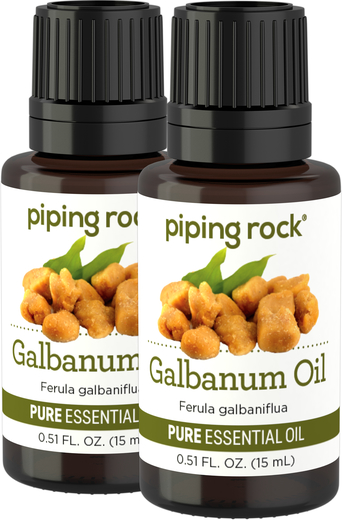 Steam distilled from the resin of the Ferula galbaniflua plant, galbanum oil emits a notably complex aroma, combining notes of musk, balsam, wood and fruit. In aromatherapy, Galbanum oil may help:
Revitalize as it soothes**

Balance the body, mind and spirit**

Instill a sense of spirituality and connectedness**
Read more about Galbanum Oil
What is Galbanum?
Native to the Middle East, galbanum can be found thriving on the slopes and mountainsides of Iran. The term "galbanum" actually refers to the thick resin that emerges from cuts in the base and roots of the Ferula galbaniflua plant. This tall perennial has a hollow stem and resembles the fennel plant, which makes sense since they are both members of the Apiaceae family!
This blossoming herb is considered to be one of the oldest plants used for wellness applications in the world. It was notably treasured in ancient Egypt and Rome, and has long seen use in sacred incense thanks to the distinct aroma of its resin. Today, galbanum is seen as a key ingredient in many high-end perfumes thanks to its full-bodied, alluring aroma, which slowly reveals captivating subtleties of apple and pine.
Galbanum Essential Oil
Steam distilled from the resin, galbanum oil is described as having a complex fragrance, combining musk and balsam with notes of wood and fruit. In aromatherapy, this oil is popular for its aid in soothing and revitalizing the senses, as well as for bringing the mind, body and spirit into balance during meditation. For some, it may instill a sense of spirituality and a feeling of connection.
Blending essential oils opens up a world of wellness possibilities! Other oils that complement galbanum oil's deep fragrance include: balsam, basil, clary sage, cypress, fir needle, frankincense, jasmine, geranium, ginger, lavender, myrrh, pine, rose, rosewood, spruce, and ylang ylang oils.
Piping Rock's pure Galbanum Oil is available in 1/2 oz. bottles.
Galbanum Essential Oil Directions for Use
Add 3-5 drops of Galbanum Oil to a diffuser or vaporizer, to a bowl of steaming water or a hot bath to fill a room with its woody, fruity scent. To use topically, add ~5 drops of Galbanum Oil to ~10 mL of any Piping Rock carrier oil.
Galbanum Oil is for external use only and should be diluted in a carrier oil such as sweet almond, jojoba, grapeseed or avocado oil before being used topically. Do not apply to broken or irritated skin. Always consult your trusted physician before adding any essential oil to your regimen, especially if you are pregnant, nursing or taking any medications. Discontinue use and alert your doctor should an adverse reaction occur. Keep out of reach of children and away from eyes and mouth. Essential oils are flammable.