Olejek eteryczny ułatwiający koncentrację
(2)

Chwilowo niedostępny
Wkrótce sprawdź ponownie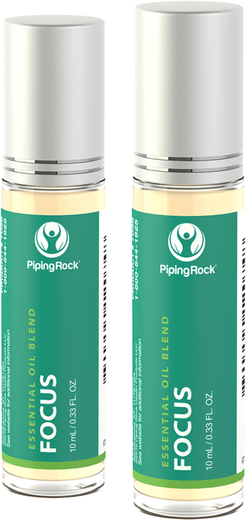 Chwilowo niedostępny
Wkrótce sprawdź ponownie
Focus Oil's woody, minty aroma makes it the perfect blend for diffusing in the office or study. In aromatherapy, this blend:
Refreshes and clarifies the mind

Is perfect for wholesome mindful meditation

Can be used in DIY projects
Read more about Focus Oil
What is Focus Oil?
A sharpening blend of lavender, peppermint, and rosemary essential oils, focus oil is the perfect choice for diffusing in an office or place of study, and in places of peace to help with mindful meditation. Its scent is woody and minty, making it perfect for a reinvigorating massage.
Focus Essential Oil
Focus oil combines steam distilled lavender flowers, peppermint flowering plants, and rosemary sprigs. Its refreshing, clarifying properties make it the perfect oil for diffusing, with its woody, minty aroma easily filling any room and helping to instill a sense of focus and mindfulness. Focus oil is also wonderful as a massage oil when combined with a carrier oil and worked into the shoulders and neck.
Looking for easy on-the-go aromatherapy? Enjoy the benefits of Focus Oil anytime, anyplace with Piping Rock's Focus Oil roll-on blend, featuring this versatile oil blend in a soothing sunflower seed carrier oil base. This makes it easier than ever to experience aromatherapy when you want it most.
Directions for Use
Add 3-5 drops of Focus Oil to a diffuser or vaporizer, to a bowl of steaming water or a hot bath to fill a room with its woody, minty aroma. As a blended oil, it can also be used topically when combined with 10 mL of any carrier oil, or used directly on the skin in its convenient roll-on form.
Focus Oil is for external use only and should be used topically. Do not apply to broken or irritated skin. Always consult your trusted physician before adding any essential oil to your regimen, especially if you are pregnant, nursing or taking any medications. Discontinue use and alert your doctor should an adverse reaction occur. Keep out of reach of children and away from eyes and mouth. Essential oils are flammable.