Chwilowo niedostępny
Wkrótce sprawdź ponownie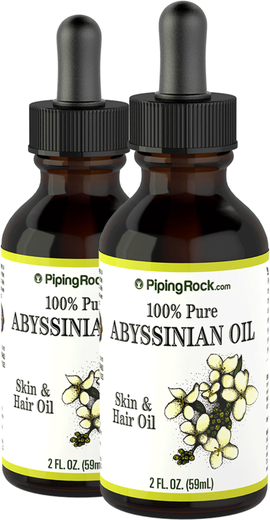 Chwilowo niedostępny
Wkrótce sprawdź ponownie
Abyssinian Oil works to promote soft, supple skin. It also has a bunch of other benefits for you such as:
Supplies a high level of hyaluronic acid.

Helps skin appear to have a coveted glow.

Fragrance-free with a long shelf life.
Read more about Abyssinian Oil
What is Abyssinian Oil?
Abyssinian Oil is sourced from the Crambe abyssinica plant which is native to the Mediterranean region and eastern Africa. The plant has been cultivated in the United States since the 1940's which makes it widely available for use. Crambe abyssinica can grow to be up to 40 inches and produces pretty little white flowers. The oil is derived from the seeds of this plant once they go through a cold-pressed process. The result is a rich, moisturizing oil that is light in color and perfect for beauty routines.
The oil itself has a long fatty acid composition that makes it a great skincare product for its benefits. Abyssinian oil has a high level of hyaluranic acid that helps the skin have the appearance of being well-hydrated and supple. It's also a stable, fragrance-free oil with a long shelf life making it perfect for blending your essential oils.
Abyssinian Oil Products
Abyssinian Oil is available in 2 fluid oz. bottles and can be used on both the hair and skin for beautifying effects.
Abyssinian Oil Directions for Use
As a topical serum, the oil is applied sparingly – only a few drops massaged into skin, or hair will convey its beautifying benefits.