Kwiaty krwawnika pospolitego
(3)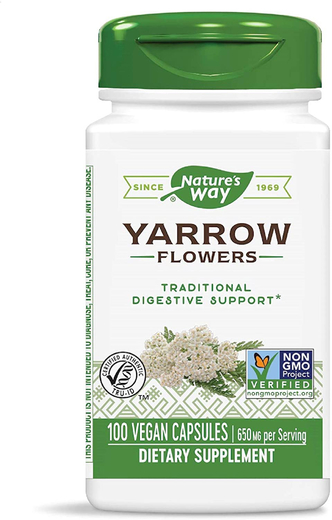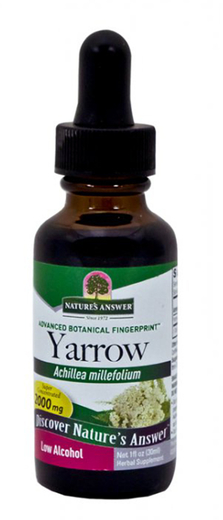 Yarrow, also known as Milfoil, is a bushy flowering plant that is a member of the sunflower family. One of the oldest utilized plants in human history, Yarrow has many holistic purposes. Our Yarrow assortment features:
Yarrow Flowers, 325 mg Capsules

Yarrow Pure Essential Oil

Yarrow Liquid Extract, 30 ml
Read more about Yarrow Flowers
What is Yarrow?
Achillea millefolium, commonly known as Yarrow, is a member of the Asteraceae (sunflower) family. This bushy plant has leaves similar to that of a fern plant and blossoms clusters of small flowers that can be white, pink, or purple. Sometimes referred to as Milfoil, the plant can reach up to three feet high and grows abundantly throughout Europe.
The Latin name for Yarrow, Achillea, comes from the Greek myth of Achilles. According to the myth, Achilles used Yarrow when he wounded his heel and used it frequently throughout his life. Remnants of the plant have been found in ancient Neanderthal burial grounds, making it perhaps one of the oldest utilized plants in human history – steeped in centuries of use across Europe and the Americas.
Yarrow has been used in traditional wellness practices and can also be distilled into an essential oil with aromatherapeutic benefits.**
Yarrow Supplements
Yarrow is widely used as an ingestible supplement in both capsule and liquid form. The plant is also used to distill an essential oil, yielding a mellow and earthy aroma with notes of camphor, moss, and tea. Piping Rock Yarrow Essential Oil is available in ½ oz. bottles.
Yarrow Liquid Extract
Now, enjoy the benefits of this herbal ingredient in liquid extract form! Easy for taking this powerful herb on-the-go and adding seamlessly to water or juice.