Chwilowo niedostępny
Wkrótce sprawdź ponownie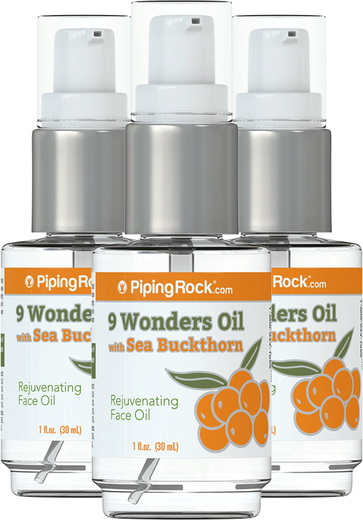 Chwilowo niedostępny
Wkrótce sprawdź ponownie
Discover the bliss of beautiful skin with Piping Rock's collection of Wonder Oils! These oils include:
9 Wonders Oil with Sea Buckthorn, a hydrating serum for a glowing complexion

Wonder Oil with Lavender, a sublime blend of botanicals for hair, skin, and nails
Read more about Wonder Oil
What is Wonder Oil?
Piping Rock's Wonder Oil collection includes 2 luxurious oil blends that have been expertly formulated from soothing botanicals to offer lush hydration for skin, hair, and nails. Choose from:
♦ Wonder Oil with Lavender: This sublime blend of beautifying botanicals promotes healthy hair, skin, and nails, enriched with the soothing scent of lavender. Gently massage this oil blend onto the skin, nail beds, and the ends of hair to discover the bliss of soothing hydration and silky smooth texture. You can even add your favorite essential oils to create a unique massage oil!
♦ 9 Wonders Oil with Sea Buckthorn: Let your natural beauty shine with this spa-worthy facial serum! We've combined 9 of nature's finest oils into this serum: Apricot Kernel Oil, Avocado Oil, Sesame Seed Oil, Kukui Oil, Arnica Oil, Argan Oil, Vitamin E Oil, and of course Sea Buckthorn Berry Oil. You'll fall in love with the absolute radiance in each pump of this hydrating facial serum!
Directions for Use
♦ Wonder Oil with Lavender: To use as a Hot Oil Treatment, place Wonder Oil in a container of hot (not boiling) water until oil is warm. Massage Wonder Oil into hair and scalp then cover with a warm moist towel for 3-5 minutes. Shampoo and rinse with warm water then style. To use as a body, massage or cuticle oil, rub Wonder Oil in hands then massage into desired areas. To use in the bath, add 1 to 2 oz. into hot bath water.
♦ 9 Wonders Oil with Sea Buckhorn: Benefit from 9 of nature's finest botanicals with each drop of this easy-to-use serum. Apply to the face and neck, gently massaging into the skin until absorbed. Use in the day or at night, as it is suitable to wear beneath sunscreen and make-up.