WYPRZEDAŻ KOŃCZY SIĘ ZA
-

Dni

-

Godz.

-

Minimum:

-

Sek.
40%
OBNIŻKA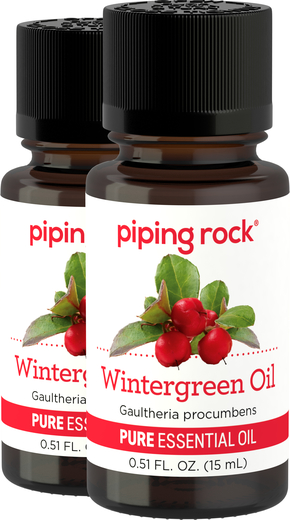 Bracing and minty-fresh, wintergreen essential oil has a remarkably memorable scent! Steam distilled from the leaves of the Gaultheria procumbens shrub, wintergreen oil is popular in aromatherapy for:
Refreshing and stimulating the senses.
Soothing one's entire being.
Adding a sense of cleanliness to the air.
Read more about Wintergreen Oil
What is Wintergreen?
Also known as eastern teaberry, wintergreen (Gaultheria procumbens) is a low-lying perennial evergreen shrub native to eastern North America. Its leaves are a dark, rich green, which gorgeously contrasts its small, white, bell-shaped flowers and familiar red berries. When the leaves are crushed, they release a strong, minty aroma, though wintergreen is in no way related to mint!
Wintergreen has long held importance to the people of North America. The Native Americans would chew the leaves for their fresh, bracing properties, and would incorporate it into soothing muscle rubs. During the American Revolution, soldiers would make tea from the leaves of wintergreen (earning the moniker "teaberry") when there was a scarce supply of traditional tea leaves. In Ayurveda, wintergreen is associated with harmony between the earth and its inhabitants, and is thus used in spiritual ceremonies.
Today, wintergreen can be found as a flavoring agent in chewing gum, toothpaste, and more, while its strong-scented essential oil has become a favorite for aromatherapists worldwide.
Wintergreen Essential Oil
Steam distilled from the leaves, wintergreen essential oil is notably bracing and minty-fresh, reminding many of the winter holiday season. In aromatherapy, wintergreen oil is refreshing and stimulating for the senses. It offers soothing properties while adding a sense of cleanliness when used in diffusers and as a fragrant addition to DIY housecleaning supplies.
Blending essential oils opens up a world of aromatherapy possibilities! Other oils that complement wintergreen oil's fresh fragrance include: basil, birch tar, cypress, eucalyptus, grapefruit, helichrysum, lavender, lemon, oregano, peppermint, ravensara, rosemary, spearmint, thyme, vanilla, vetiver, and ylang ylang oils.
Piping Rock's pure Wintergreen Oil is available in 1/2 oz., 2 oz., & 16 oz. bottles.
Wintergreen Oil Directions for Use
Add 3-5 drops of Wintergreen Oil to a diffuser or vaporizer, to a bowl of steaming water or a hot bath to fill a room with its minty scent. To use topically, add ~5 drops of Wintergreen Oil to ~10 mL of any Piping Rock carrier oil.
Wintergreen Oil is for external use only and should be diluted in a carrier oil such as sweet almond, jojoba, grapeseed or avocado oil before being used topically. Do not apply to broken or irritated skin. Always consult your trusted physician before adding any essential oil to your regimen, especially if you are pregnant, nursing or taking any medications. Discontinue use and alert your doctor should an adverse reaction occur. Keep out of reach of children and away from eyes and mouth. Essential oils are flammable.