Chwilowo niedostępny
Wkrótce sprawdź ponownie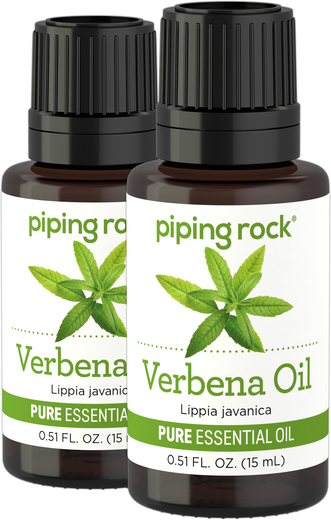 Chwilowo niedostępny
Wkrótce sprawdź ponownie
Also known as lemon bush, verbena oil's lemon-pepper scented essential oil is steam distilled from the aerial parts of this woody shrub. In aromatherapy, verbena oil is popular for:
Soothing and comforting**

Helping during times of occasional stress**

Keeping pesky outdoor insects at bay**
Read more about Verbena Oil
What is Verbena?
Also known as lemon bush and zinziba, verbena (Lippia javanica) is a flowering woody shrub native to the grasslands and woodlands of eastern and southern Africa. It can reach a height of 6 feet, with fuzzy lemon-scented leaves and dense clusters of small, creamy-white flowers. A notably hardy and drought-resistant plant, it has been used by people of the area for centuries.
The ancient Greeks found use for verbena in the bedroom, placing the aromatic leaves under their pillows to help instill peace and tranquility. The Xhosa people of South Africa drink tea made from the leaves and also use the leaves to preserve meat. Stepping into the mystic, the Xhosa also make charms of protection from verbena, and other ancient cultures used verbena in spiritual purifying rituals, particularly in cleansing altars and other objects of worship.
Verbena Essential Oil
Steam distilled from the plant's aerial parts, verbena oil's scent is lemony and fruity with bracing notes of pepper. The oil may resinify over time; if this happens, simply place the bottle in warm water to liquefy the oil. In aromatherapy, verbena oil is popular for its soothing and comforting qualities, helping during occasional times of stress or cloudy moods we all experience from time to time. It can also help to keep pesky outdoor insects at bay.
Blending essential oils opens up a world of aromatherapy possibilities! Other oils that complement verbena oil's lemon pepper fragrance include: angelica root, benzoin, cedarwood, grapefruit, mandarin, neroli, palmarosa, petitgrain, and yarrow oils.
Piping Rock's pure Verbena Oil is available in 1/2 oz. bottles.
Verbena Oil Directions for Use
Add 3-5 drops of Verbena Oil to a diffuser or vaporizer, to a bowl of steaming water or a hot bath to fill a room with its lemony scent. To use topically, add ~5 drops of Verbena Oil to ~10 mL of any Piping Rock carrier oil.
Verbena Oil is for external use only and should be diluted in a carrier oil such as sweet almond, jojoba, grapeseed or avocado oil before being used topically. Do not apply to broken or irritated skin. Always consult your trusted physician before adding any essential oil to your regimen, especially if you are pregnant, nursing or taking any medications. Discontinue use and alert your doctor should an adverse reaction occur. Keep out of reach of children and away from eyes and mouth. Essential oils are flammable.