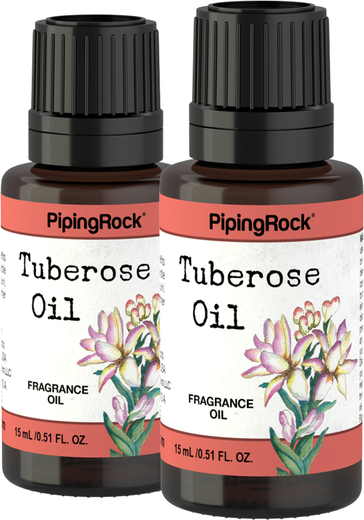 A must-have in perfumery, tuberose oil's honey-sweet fragrance has quickly made it a popular oil in aromatherapy. Available in its absolute form or blended with sweet almond oil, its wellness benefits include:
Read more about Tuberose Oil
What is Tuberose Oil?
Known across cultures as the Mistress of the Night, tuberose is a long and lean flowering plant that sprouts 18" spikes. Adorning these spikes are tuberose's lovely white flowers, which have earned this plant its many names! These star-shaped blossoms bloom in the evening, emitting an intoxicating aroma of floral-sweet honey that has made Polianthes tuberosa constantly in high demand in perfumery.
Tuberose is native to Central America, cultivated since the time of the ancient Aztecs and Mayans. The Mayans considered it to be a sacred plant, offering it to their gods as tribute. With Spanish exploration came tuberose's expansion into European society, where it quickly became a fragrant must-have. Victorian Moon Gardens, which featured bounties of lush, fragrant white flowers that seemed to glow with moonlight at night, boasted tuberose's tantalizing blooms.
Its exhilarating, exotic aroma has been associated with sensuality since its discovery. According to age-old Indian folklore, young women must avoid smelling the flowers at night for fear of falling victim to the flower's carnal influence. Across the ocean, Hawaiian newlyweds were given leis of delicately weaved tuberose blooms to spark the passions on their wedding night.
Tuberose Essential Oil
Derived from the unopened buds, tuberose essential oil is extracted using the traditional enfleurage method, which creates tuberose absolute oil. It takes a whopping 1,575 pounds of these plush buds to create just 7 ounces of its precious oil, making tuberose one of the most costly oils in aromatherapy. This is why Piping Rock also happily offers our much more cost-friendly (and just as wonderfully fragrant) tuberose oil blended with sweet almond oil!
Tuberose oil is most commonly associated with the root chakra, offering grounding stability support when going through difficult transitions in life. It is both centering and empowering, helping to dispel self-doubt, negativity and jealousy while promoting motivation and creativity. Its floral aroma can also help to ease occasional stress and tension. When combined with a carrier oil and applied topically, tuberose oil is famous in aromatherapy for igniting the passions. It can also support healthy skin in addition to promoting deep rest and relaxation.
Blending essential oils opens up a world of wellness possibilities! Other oils that complement tuberose's honey-sweet fragrance and celebrated wellness properties include: amber, bergamot, clary sage, calendula, frankincense, geranium, helichrysum, jasmine, lavender, mandarin, neroli, orange, patchouli, rose, sandalwood and ylang ylang oils.
Piping Rock's pure Tuberose Absolute Oil is available in 5 mL & 1/2 oz. bottles; Tuberose Blended Oil is available in 1/2 oz. bottles.
Tuberose Oil Directions for Use
Add 3-5 drops of Tuberose Oil to a diffuser or vaporizer, to a bowl of steaming water or a hot bath to fill a room with its scent. To use topically, add ~5 drops of Tuberose Oil to ~10 mL of any Piping Rock carrier oil.
Tuberose Oil is for external use only and should be diluted in a carrier oil such as sweet almond, jojoba, grapeseed or avocado oil before being used topically. Do not apply to broken or irritated skin. Always consult your trusted physician before adding any essential oil to your regimen, especially if you are pregnant, nursing or taking any medications. Discontinue use and alert your doctor should an adverse reaction occur. Keep out of reach of children and away from eyes and mouth. Essential oils are flammable.