Liście banana zwyczajnego
(2)
WYPRZEDAŻ KOŃCZY SIĘ ZA
-

Dni

-

Godz.

-

Minimum:

-

Sek.
40%
OBNIŻKA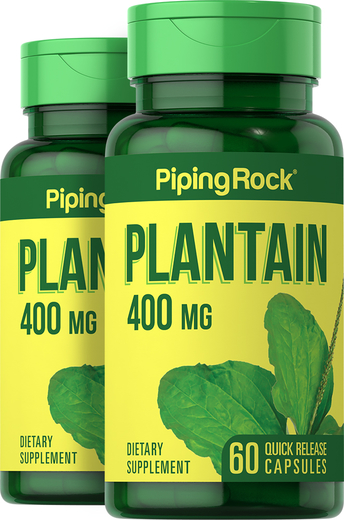 One of the most widely distributed herbs used in folk wellness, plantain leaf boasts a rich history of traditional health applications. Plantain supplements:
Contain the full spectrum leaf of the Plantago major plant

Have been traditionally used to support respiratory comfort and wellness**

Are popular during times of seasonal change**
Read more about Plantain Leaf
What is Plantain?
While many people may think of plantain as the tropical banana-like fruit, Plantago major—or broad-leaf plantain—is a separate species entirely. Native throughout Europe and in central and northern Asia, plantain can be found thriving in many parts of the world, especially North America, where it was first brought by Puritan settlers during European colonization. Plantain is a perennial herb with oval rosette leaves and small, green-brown flowers that grow on spikes.
Plantain, a famously hardy plant, can be found growing on lawns, in open fields, along roadsides, and poking through cracks in concrete—many people consider it a weed, but it is actually one of the most widely distributed folk wellness herbs in the world. Its main chemical constituents include aucubin, allantoin, and mucilage, and it also naturally supplies vitamins A, C, K, as well as calcium and flavonoids.
Plantain Supplements
Historically, plantain leaves have been used in a variety of folk wellness applications. A poultice of its leaves have traditionally been used topically to support skin health, and the leaves were also commonly brewed into teas and stews to promote digestive and respiratory health and comfort as well as overall wellness.**
Piping Rock's Plantain supplements deliver 400 mg of full-spectrum Plantago major leaves per serving in quick-release capsules. Plantain is especially popular in herbal supplement regimens for supporting respiratory health and comfort, and to promote overall wellness, especially during times of seasonal change.**
Directions for Use
Always consult with your trusted healthcare provider prior to adding any supplement to your regimen. There is no set recommended daily allowance for plantain leaf supplements. Refer to individual label directions for more information.