Olejek o zapachu ananasa
(2)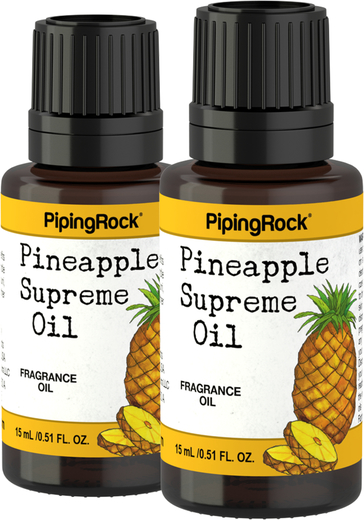 For those looking for a fruity, tropical paradise this yummy Pineapple Fragrance Oil is the way to go! Use this oil in:
Mixing fragrances to create an aroma reminescent of white sand beaches.

Creating summer-inspired projects

Making homemade candles, potpourri, body products, & more!
Read more about Pineapple Fragrance Oil
What are Pineapples?
The term "pineapple" was originally used in 1398 to refer to the cones of conifer trees, but that was later changed to the common word "pinecones". This fruit which is botanically a berry, is actually not exactly what meets the eye…the fruit is a composite of many flowers whose individual fruitlets fuse together around a central core. These golden fruits are believed to have originated from Brazil but are cultivated in multiple countries today.
In earlier times, the pineapple was such a loved but rare fruit, it cost nearly $8000 in colonial America. Only the wealthy were able to afford the fruit, and it was placed as a centerpiece symbolizing their wealth during house parties. Seafaring captains would use fresh pineapples and stick them on their porch railings to denote that they were home and taking visitors. Lastly, the pineapple has universally, even into the modern day, represented hospitality.
Pineapple Fragrance Oil
Bring in the refreshing tropical scent of pineapples to your home or DIY project! Immerse your senses into a tropical paradise filled with turquoise waters, pina coladas, playful dolphins and endless daylight. The Pineapple Fragrance oil is sure to please with its captivating juicy scent, like freshly cute fruit off a small bamboo stand on the beach!
Directions for Use
Piping Rock's top-quality fragrance oils mimic the natural scent of plants, flowers, and other favorite aromas. Use Pineapple fragrance oil in any DIY project that could use a burst of tropical fruit, such as in making perfume, candles, soaps, body products, potpourri, and more! Fragrance oils can also be used in diffusers as you would with essential oils.