Relaks zwierząt domowych
(3)
WYPRZEDAŻ KOŃCZY SIĘ ZA
-

Dni

-

Godz.

-

Minimum:

-

Sek.
68%
OBNIŻKA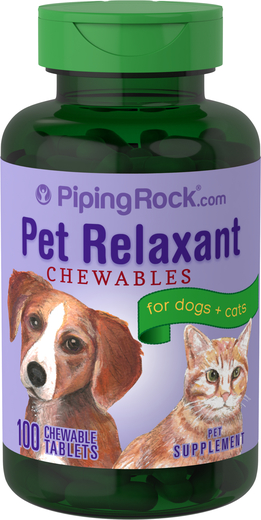 Chwilowo niedostępny
Wkrótce sprawdź ponownie
Chwilowo niedostępny
Wkrótce sprawdź ponownie
It always seems like your pet's stress levels peak at the most inopportune time. When you are trying to sleep, get them to the vet, or going on a long road trip, it can be difficult to get them to relax. Fortunately, there is science behind ingredients that support relaxation. Piping Rock's Pet Relaxant Supplement has shown to promote:
Calmness and help manage stress levels**

Sustained relaxation and tranquility**

General health and wellness**
Read more about Pet Relaxation
Promoting Relaxation
High stress levels can negatively impact your pet's health over time and can prohibit them from being happy and affectionate.
There are various ways to keep your pet relaxed and energetic daily. Lots of exercise, healthy dieting and human interaction can help support your pet's health.
However, many environmental situations can cause your pet to get anxious. Traveling, loud noises, storms, social interaction and trips to the vet are common causes of anxiety.
There are many natural remedies that are effective in supporting relaxation during these stressful times. It's important to find one that is potent and safe for pet consumption.
Our Pet Relaxation Solution
Piping Rock has created a Pet Relaxant Chewable formula for Dogs & Cats that offers maximum support. It provides a potent blend of herbs and Amino Acids that promote relaxation for your pooches.
Our formula contains colorful herbs like Valerian Root, Passion Flower, Chamomile Flower and Ginger Root that promote relaxation and restful sleep.
L-Tryptophan and L-Theanine are essential Amino Acids that can help prevent excessive excitement and anxiety.
Piping Rock's Promise
We proudly offer you our ever-growing selection of Vitamin & Supplement products designed to best support your pets and all their needs, at the lowest cost in the industry! The beauty lies in the depth of our assortment. Piping Rock carries a plethora of friendly formulas for Cats & Dogs. We offer capsules, powders, softgels, liquids and much more! Our products are stacked with premium ingredients, sourced from all over the globe.
About Piping Rock's Quality
You've found your One-Stop-Shop for Pet Products at Piping Rock. Our formulas are crafted in our own "GMP Certified" manufacturing facilities. We verify Piping Rock products with third-party, FDA-registered agencies to ensure quality & purity. Each product goes through hundreds of checks, in-process and post-production. Furthermore, we can assure you that everything that is on our label is consistent with what goes into our Vitamins & Supplements. We guarantee purity, potency, safety and innovation in everything we do.