WYPRZEDAŻ KOŃCZY SIĘ ZA
-

Dni

-

Godz.

-

Minimum:

-

Sek.
40%
OBNIŻKA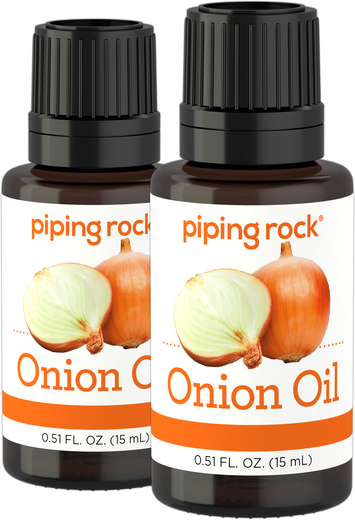 Derived from the common onion or bulb onion, onion oil's pungent aroma is sourced from the seeds of the plant. In aromatherapy, Onion oil may:
Be relaxing and soothing for the spirit

Help uplift emotions

Be a popular additive in hair treatments
Read more about Onion Oil
What is Onion?
Onions are a perennial bulbous plant has been enjoyed as a vegetable and used in culinary practices around the globe for thousands of years. Discovered by the Swedish botanist, Carolus Linnaeus, in 1753 it had already seen thousands of years of use.
Aside from their culinary uses, the bulbous vegetable is maintains many uses including to promote hair growth, polish glass and copperware, ward away pesky insects, and is even used in educational settings to teach the use of a microscope for observing cell structure, due to the plant's particularly large cells.
Onion Essential Oil
Steam distilled from the onion seeds, onion oil has a pungent aroma that evokes the smell of cooking onions. Onion gained notable attention in the world of aromatherapy, due to its ability to help relax and soothe the spirit as well as uplift emotions. Onion oil is also a popular additive for hair treatments.
Blending essential oils opens up a world of aromatherapy possibilities! Other oils that complement Onion oil's pungent scent include: oregano, rosemary, sage, and thyme oils.
Piping Rock's pure Onion Oil is available in 1/2 oz. bottles.
Onion Oil Directions for Use
Add 3-5 drops of Onion Oil to a diffuser or vaporizer, to a bowl of steaming water or a hot bath to fill a room with its pungent aroma. To use topically, add ~5 drops of Onion Oil to ~10 mL of any Piping Rock carrier oil.
Onion Oil is for external use only and should be diluted in a carrier oil such as sweet almond, jojoba, grapeseed or avocado oil before being used topically. Do not apply to broken or irritated skin. Always consult your trusted physician before adding any essential oil to your regimen, especially if you are pregnant, nursing or taking any medications. Discontinue use and alert your doctor should an adverse reaction occur. Keep out of reach of children and away from eyes and mouth. Essential oils are flammable.