Olejek z hyzopu lekarskiego
(3)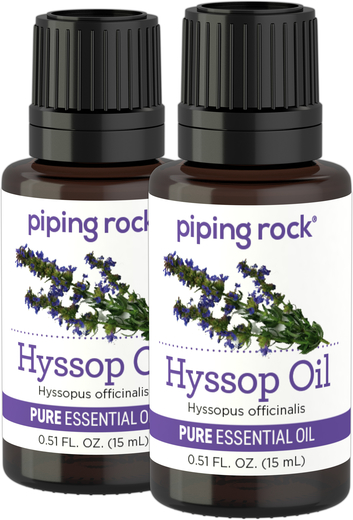 Also known as Holy Herb, hyssop oil is considered by many to be one of the most sacred in aromatherapy. With its rich, herbaceous aroma, Hyssop oil:
Acts as a centering meditative aid**

Cleanses and purifies the spirit**

Helps ease occasional negative emotions**
Read more about Hyssop Oil
What is Hyssop?
An herb that has held spiritual significance since ancient times, hyssop (Hyssopus officinalis) earned its name from the Hebrew word "ezob," meaning "holy herb." This perennial shrub can reach a height of 2 meters, sporting deep purple flowers and bright green needled stems. Native to the Mediterranean, hyssop can be found growing in the chalky soil and dry, rocky slopes of the area.
After seeing centuries of use, hyssop was first brought to England in 1597, where it became a staple in gardens thanks to its attractive flowers and distinct fragrance. It has since only grown in popularity, and its essential oil is treasured by aromatherapists worldwide!
Hyssop Essential Oil
Hyssop essential oil is extracted through steam distillation of the flowering tops. It emits a pleasantly rich, herbaceous aroma with hints of sweetness and camphor. Used in purification rituals since ancient times, hyssop oil is a popular centering meditative aid, helping to cleanse and purify the spirit and mind. For some, it can help to ease occasional negative emotions and nervous tension, another reason why this oil is beloved during meditation.
Blending essential oils opens up a world of wellness possibilities! Other oils that complement hyssop oil's herbal fragrance include: bay, clary sage, geranium, grapefruit, lavender, lemon, mandarin, myrtle, sweet orange, rosemary, and sage oils.
Piping Rock's pure Hyssop Oil is available in 1/2 oz. bottles.
Hyssop Essential Oil Directions for Use
Add 3-5 drops of Hyssop Oil to a diffuser or vaporizer, to a bowl of steaming water or a hot bath to fill a room with its rich scent. To use topically, add ~5 drops of Hyssop Oil to ~10 mL of any Piping Rock carrier oil.
Hyssop Oil is for external use only and should be diluted in a carrier oil such as sweet almond, jojoba, grapeseed or avocado oil before being used topically. Do not apply to broken or irritated skin. Always consult your trusted physician before adding any essential oil to your regimen, especially if you are pregnant, nursing or taking any medications. Discontinue use and alert your doctor should an adverse reaction occur. Keep out of reach of children and away from eyes and mouth. Essential oils are flammable.