Olejek na dobry nastrój
(2)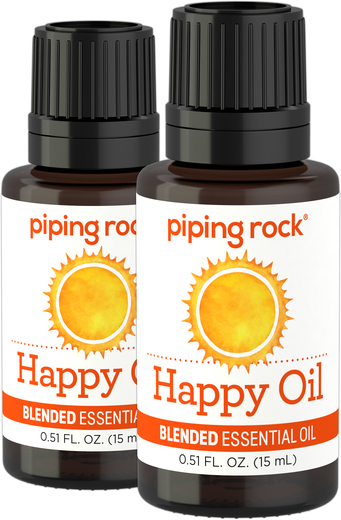 Let your mind wander to happy moments in life with our Happy Oil! This bright, sunny oil emits an aroma that is sweet and fruity, like walking through a candy store. In aromatherapy, this blend:
Is uplifting and soothing**

Promotes positive energy**

Is wonderful for creating a sense of peace**
Read more about Happy Oil
What is Happy Oil?
One of our most popular blends, Happy Oil combines Cedarwood, Lemon, Spearmint, Grapefruit, Tangerine, Myrtle, Nutmeg, and Jasmine essential oils, creating a scent that is sweet and fruity. Its aroma is almost nostalgic, reminiscent of the childlike wonder of wandering through a candy store with pockets full of sweet treats…
Happy Essential Oil
Put simply, Happy Oil is sunshine in a bottle! It is created using steam distilled cedar wood and sawdust, spearmint leaves, myrtle leaves, and nutmeg seeds, cold-pressed lemon rinds, grapefruit rinds, and tangerine peels, and finally jasmine flowers that have undergone enfleurage. Together, these oils emit a scent that is bright, sweet, and fruity.
In aromatherapy, the scent of Happy Oil is uplifting and soothing, promoting positive energy and a sense of peacefulness.
Blended oils can be combined with a carrier oil to be used on the skin and can also be used in a diffuser. We love using Happy Oil when we're searching for our happy place, letting our minds wander to the finer moments in life that fills us with contentment.
Piping Rock's Happy Oil is available in ½ oz. glass amber bottles with dropper tops.
Directions for Use
Add 3-5 drops of Happy Oil to a diffuser or vaporizer, to a bowl of steaming water or a hot bath to fill a room with its sweet aroma. As a blended oil, it can also be used topically when combined with 10 mL of any carrier oil.
Happy Oil is for external use only and should be used topically. Do not apply to broken or irritated skin. Always consult your trusted physician before adding any essential oil to your regimen, especially if you are pregnant, nursing or taking any medications. Discontinue use and alert your doctor should an adverse reaction occur. Keep out of reach of children and away from eyes and mouth. Essential oils are flammable.