Olej z pestek grejpfruta
(3)
WYPRZEDAŻ KOŃCZY SIĘ ZA
-

Dni

-

Godz.

-

Minimum:

-

Sek.
40%
OBNIŻKA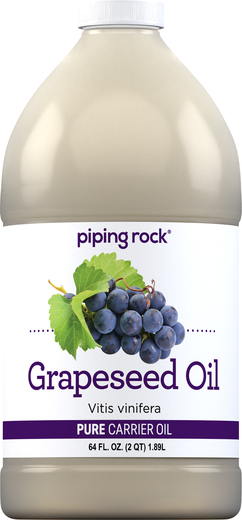 WYPRZEDAŻ KOŃCZY SIĘ ZA
-

Dni

-

Godz.

-

Minimum:

-

Sek.
40%
OBNIŻKA
With its virtually non-existent scent and soothing emollient properties, grapeseed oil is a popular carrier oil in aroma and massage therapy. Unlike most other carrier oils, grapeseed oil leaves behind a glossy sheen, making it a wonderful shave oil as well as a:
Soothing moisturizer for the skin

Lush hydrating oil for the hair

Perfect carrier oil, especially for delicate floral scents
Read more about Grapeseed Oil
What is Grapeseed Oil?
A natural by-product of the wine industry, grapeseed oil comes from the seeds of the common grapevine (Vitis vinifera), a woody perennial vine that can climb to an outstanding height of 65 feet when left unpruned. It is native to central Europe, southwestern Asia, and the Mediterranean, where it can be found thriving alongside rivers and deep within lush, wet woods. Its leaves are thin and circular, and its sweet-smelling flowers grow in small, pale-green clusters. The show-stopper for this plant, of course, is its pulpy berries (commonly known as grapes), which can range in color from bright yellow to deep, dark purple.
Grapes are one of the oldest fruit crops in the world! Evidence of humans enjoying these juicy fruits have been found in Neolithic sites in Cyprus dating back to 4500 B.C.E. Wine was even made in Egypt as far back as 2400 B.C.E, and the ancient Greeks revered grapeseed oil (as well as the sap from young branches) as a skin moisturizer. This tradition lives on, as grapeseed oil is commonly used in cosmetics today for its abilities as a moisture balancer and skin soother!
Grapeseed Carrier Oil
Cold-pressed from the seeds of grapes, grapeseed oil naturally has a very stable shelf life, a pale green color, and virtually no scent, making it a perfect carrier oil in aromatherapy and massage therapy. Unlike other carrier oils, grapeseed oil is slower to absorb and leaves behind a thin, light gloss on the surface of the skin, which is why it is popularly used as a soothing, hydrating shave oil!
Piping Rock's 100% pure, hexane-free Grapeseed Oil is available in 4 oz., 16 oz., & 64 oz. bottles.
Grapeseed Oil Directions for Use
Grapeseed oil's light aroma and soothing emollient properties make it one of our most popular carrier oils in aromatherapy! Simply combine 8-10 drops of your favorite essential oil(s) with 1 oz. of grapeseed oil and massage into areas of concern. It can also be used on its own to benefit from its natural moisturizing properties fragrance-free, and can be used in hot hair oil treatments to support soft, luscious locks. Try it in your next homemade DIY body care project!