Olejek o zapachu plumerii (kwiatu lei)
(2)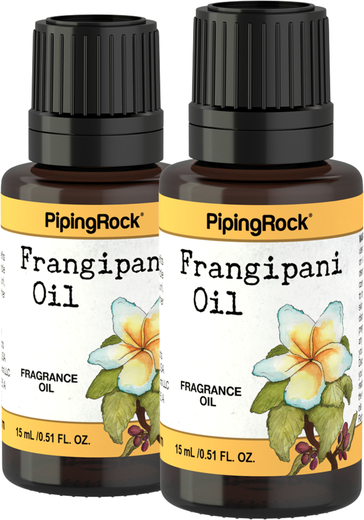 With hints of Jasmine and a tropical floral scent, our frangipani fragrance oil opens a world of possibilities for any craft lover. With aromas that will make you drift to island time and daydream about Hawaiian landscapes, frangipani fragrance oil is perfect for:
Island-themed projects.

Adding a dreamy, floral scent to any oil blend

Creating candles, potpourri, body products, & more!
Read more about Frangipani Fragrance Oil
What is Frangipani?
Treat yourself daily to a tropical flower bouquet! Frangipanis originate from Mexico and Central America, but spread to Hawaii where its prominent growth makes people think that its native to the region. The trees that house the flowers are small and only grow to be about 5-6 meters in height. The flowers appear in clusters, on the branches of the tree, and come in many varieties—all have a distinctive, lovely floral scent.
There are many different uses/beliefs of the frangipani in history. In Hawaii these flowers are used to craft traditional, beautiful leis loved by locals and tourists alike. They represent love, happiness and life. In Hindu culture the flower means loyalty and women where it in their hair on wedding days to show loyalty to their husbands. Most interestingly, in Mexican myth the gods were born from these flowers.
Frangipani Fragrance Oil
It's time to take a brief moment to yourself and jet set to a beautiful island in the middle of the most crystal waters. When you lie down, and breathe in Frangipani Fragrance oil there's a definite guarantee you'll be lifted away to a faraway place with refreshing island breezes, the never dissipating scent of a floral oasis and an ease of mind. The floral aroma of this oil is filled with notes of jasmine and fruit sure to bring a tropical feel to any room or DIY project!
Directions of Use
Piping Rock's top-quality fragrance oils mimic the natural scent of plants, flowers, and other favorite aromas. Use Frangipani fragrance oil in any DIY project that could use a burst of floral, such as in making perfume, candles, soaps, body products, potpourri, and more! Fragrance oils can also be used in diffusers as you would with essential oils.