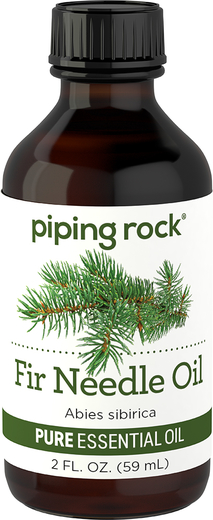 Fir needle oil is steam distilled from the soft needles of the Siberian Silver Fir tree. With its fresh, earthy aroma, fir needle oil is popular in aromatherapy for:
Reviving and energizing the senses**

Connecting to the earth's elemental energy during meditation**

Lending confidence and inner strength**
Read more about Fir Needle Oil
What is Fir?
An evergreen found in most of the Northern Hemisphere, the Siberian Fir tree (Abies sibirica) thrives in the grand Taiga, a cold boreal biome lush with coniferous forests, river basins, and snow-capped mountains. The Siberian Fir, which can reach a height of 114 feet and live for 200 years, is notably hardy and can survive temperatures as low as -58°F.
The Siberian Fir is a cousin to the coniferous pine and spruce tree. It's a remarkably symmetrical tree with tender needles, which are the source of its precious essential oil. The tree and its components have long been used by the indigenous people of North America, and today its distinct aroma can be found gracing air fresheners and wash products.
Fir Needle Essential Oil
Steam distilled from the needles, the scent of fir needle oil is often compared to the scent of fresh Christmas trees during the holiday season! It's a fresh and clean smell, with earthy, woody notes and a subtle touch of sweetness. In aromatherapy, fir needle oil can be sublimely revitalizing and energizing for the senses. It is particularly popular in meditation, helping to connect you to the earth's elemental energy and lend confidence and inner strength.
Blending essential oils opens up a world of wellness possibilities! Other oils that complement fir needle oil's fresh fragrance include: bergamot, chamomile, cedarwood, cistus, cypress, frankincense, geranium, lavender, lemon, marjoram, myrtle, neroli, orange, peppermint, pine, rosemary, rosewood, sandalwood, spruce, and vetiver oils.
Piping Rock's pure Fir Needle Oil is available in 1/2 oz. & 2 oz. bottles.
Fir Needle Oil Directions for Use
Add 3-5 drops of Fir Needle Oil to a diffuser or vaporizer, to a bowl of steaming water or a hot bath to fill a room with its earthy scent. To use topically, add ~5 drops of Fir Needle Oil to ~10 mL of any Piping Rock carrier oil.
Fir Needle Oil is for external use only and should be diluted in a carrier oil such as sweet almond, jojoba, grapeseed or avocado oil before being used topically. Do not apply to broken or irritated skin. Always consult your trusted physician before adding any essential oil to your regimen, especially if you are pregnant, nursing or taking any medications. Discontinue use and alert your doctor should an adverse reaction occur. Keep out of reach of children and away from eyes and mouth. Essential oils are flammable.