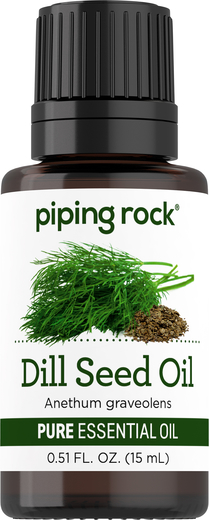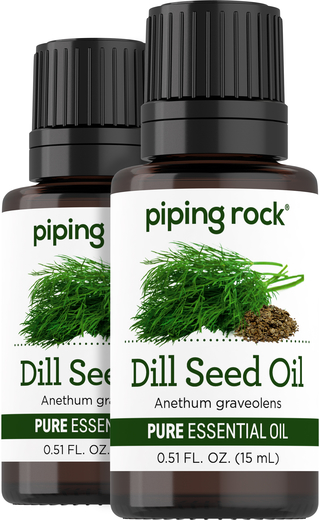 Dill oil is steam distilled from the seeds of the familiar herb. Warm and spicy and reminiscent of caraway and sweet fennel, Dill seed oil is popular in aromatherapy for:
Promoting a sense of serenity**

Helping to soothe occasional stress**

Supporting mental clarity in meditative practices**
Read more about Dill Oil
What is Dill Seed?
Dill is a perennial herb native to southwestern Asia, though it has been naturalized throughout Europe and the United States. A member of the celery family, dill was used during medieval times to ward off witchcraft and was revered in Anglo-Saxon England as part of traditional wellness practices. In ancient Greece, the leaves of the herb were used to make a fragrance.
Today, dill has far-reaching uses in a variety of cuisines. Fresh dill leaves can be found in kitchens all around the globe!
Dill requires warm to hot summers to grow properly along with high sunshine levels. In fact, even partial shade can affect its yield. The seeds from the dill plant are viable for three to 10 years when stored properly. These seeds are also used to create its aromatic essential oil.
Dill Seed Essential Oil
Steam distilled from the seeds of the herb, Dill Seed Oil is dry and fresh with warm, spicy notes, similar to the scent of caraway and sweet fennel oils. In aromatherapy practices, it can help to promote serenity while helping to calm occasional stress. It is also said to help ignite spirituality and passions as well as support mental clarity.
Blending essential oils opens up a world of wellness possibilities! Other oils that complement Dill Seed oil's warm and spicy fragrance include: black pepper, caraway, cinnamon, citrus oils, clove, elemi, nutmeg, peppermint, and spearmint oils.
Piping Rock's pure Dill Seed Oil is available in 1/2 oz. bottles.
Dill Seed Oil Directions for Use
Add 3-5 drops of Dill Seed Oil to a diffuser or vaporizer, to a bowl of steaming water or a hot bath to fill a room with its spicy and warm aroma. To use topically, add ~5 drops of Dill Seed Oil to ~10 mL of any Piping Rock carrier oil.
Dill Seed Oil is for external use only and should be diluted in a carrier oil such as sweet almond, jojoba, grapeseed or avocado oil before being used topically. Do not apply to broken or irritated skin. Always consult your trusted physician before adding any essential oil to your regimen, especially if you are pregnant, nursing or taking any medications. Discontinue use and alert your doctor should an adverse reaction occur. Keep out of reach of children and away from eyes and mouth. Essential oils are flammable.