WYPRZEDAŻ KOŃCZY SIĘ ZA
-

Dni

-

Godz.

-

Minimum:

-

Sek.
40%
OBNIŻKA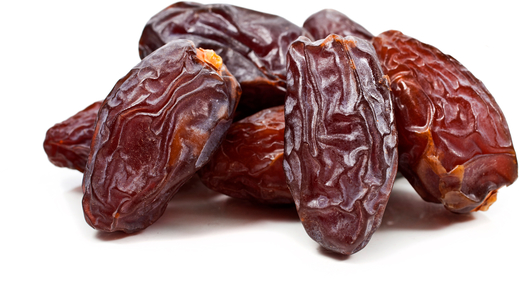 WYPRZEDAŻ KOŃCZY SIĘ ZA
-

Dni

-

Godz.

-

Minimum:

-

Sek.
40%
OBNIŻKA
What do you get when you combine mouth-watering sweetness with succulent texture? Dates, of course! Get your snack on the smart way when you add these delectable dried fruits to your cabinet. Piping Rock is proud to offer:
Whole organic Medjool dates

Pitted dates for easy, pit-free snacking
Read more about Dates
What are Dates?
Dates grow from palm trees of the same name. Their Latin name, dactylifera, is derived from the Greek word for "finger," thanks to the fruits' distinct elongated shape. Date palms are native to the Iraqi soil, though are now naturalized throughout the world. An ancient fruit, they have been cultivated historically as far back as ancient Mesopotamia and Egypt. In fact, evidence has discovered that they have been eaten since 4000 B.C., and have been in existence for over 50 million years!
Dates have long stood as a staple in Middle Eastern cuisine. With their positively juicy texture and mouth-watering sweetness, enjoy Piping Rock's natural and fresh dates on their own or in a plethora of dishes, from desserts and breads to side dishes and more!
Dried Dates
Large, sweet and succulent, Piping Rock's dried dates just may even be your next favorite snack--after all, these are so much more than your grandmother's dates! Packed with nutrients, each decadent date supplies fiber, potassium, and B-complex vitamins... all while being wonderfully low in cholesterol and fat and high in flavor!