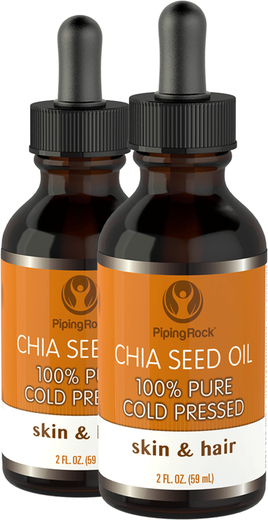 Chia seeds are members of the Salvia Hispanica family. The seeds come in two colors, white and black, and are mainly grown in Mexico and Bolivia. Piping Rock's Chia Seed Oil brings a liquid version of this seed to you that:
Is Cold-Pressed from tiny chia seeds

Is one of nature's richest plant sources of Omega-3's

Free of parabens, mineral oil, SLS and artificial fragrance
Read more about Chia Seed Oil
What is Chia?
Sometimes referred to by its scientific name Salvia hispanica, chia is an annual herb plant that belongs to the mint family. Its seeds were originally cultivated by 16th century Aztecs, who ground it into a flour that served as an important component of staple foods and beverages. In fact, ancient Aztecs used it as an early "energy supplement" of sorts; it was given to messengers as a sustained fuel source to help them run long distances. Recently, chia has seen a revival among health-conscious consumers, many of whom consume either seed oil supplements or ground seeds as alternatives to fish-derived omega fatty acids, nuts or grain products containing gluten.**
Featuring fiber, protein, antioxidants, B vitamins, minerals and the omega-3 fatty acids ALA and EPA, chia's dense nutritional profile appears to hold promise for helping to optimize cardiovascular health. It is believed to help maintain both blood pressure and blood cholesterol levels that are already within normal range. As a food source that is low in calories and high in fiber, chia supplies additional support for heart health.**
Chia supplements are reported to help with healthy weight management, although such benefits have yet to be backed up by substantial research. However, some early research has suggested that the seed's high levels of fiber and protein may promote satiety, which in turn helps with weight management. Additional early research suggests that some varieties may assist with maintaining blood sugar levels already within normal range, which may further support weight management efforts.**
Chia Seed Products
Chia supplements can be consumed in a wide array of forms, including extracted seed oil, whole seed, and ground seed commonly used in grain products. Chia seed oil is often presented in softgels or capsules. Whole and ground seed is usually packaged in bags, for easy scooping into recipes, shakes or smoothies. Chia oil supplements are popular among vegans and vegetarians, as it is among the most prized plant sources of health-enhancing omega-3 fatty acids that are typically derived from fish.**
Chia Seed Oil
Try luxurious Chia Seed Oil for your beauty and personal care routine! Our formula is 100% cold-pressed from one of nature's richest plant sources of Omega-3's. At Piping Rock, we strongly prioritize quality sourcing. Which us why our Chia Seed Oil is naturally free of parabens, mineral oil, SLS and artificial fragrance. It's especially designed for hydrating all types of skin & hair.